Learn about all you need to know about how Bitcoin Mining works before you decide to do it #bitcoinmining
SHEPPARD MULLIN 379 Lytton Ave, Palo Alto CA 94301
TUESDAY SEPTEMBER 18, 2018 6:30 PM — 8:30 PM

Launching an ICO or got a Blockchain startup? Book a demo table & get a video of your 3min pitch!
Want to pay with Cryptocurrency? Pay for Tickets Here
Cryptocurrency mining is painstaking, expensive, and only sporadically rewarding. Nonetheless, mining has a magnetic draw for many investors interested in cryptocurrency. This may be because entrepreneurial types see mining as pennies from heaven, like California gold prospectors in 1848. And if you are technologically inclined, why not do it? Daniel Edwards will explain the pros & cons of bitcoin mining & answer all your questions.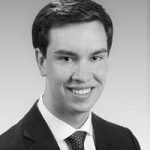 Daniel Edwards CEO stealth mode blockchain startup Dan has over 10 years of experience in corporate development, operations and finance. Previously Daniel was the Vice President of Finance and Operations at CashBet. CashBet was the world's only complete, crypto-ready iGaming platform. Under his leadership CashBet became venture backed, scaled international and achieved profitability. He also lead CashBet through a successful ICO and to become the first blockchain company in the world to sponsor a major league sports team, Arsenal Football Club from London. Prior to joining CashBet, Daniel worked as an Investment Banker at Financial Technology Partners, D.A. Davidson, Wells Fargo and Wachovia. He advised technology companies on mergers and acquisitions, capital raising and strategic corporate development. He has successfully closed over 15 M&A and capital raise transactions. Daniel is also a board member of several technology companies spanning from London to Silicon Valley. He has been a blockchain enthusiast since 2011 and speaks at conferences all around the world about blockchain and cryptocurrency. Daniel graduated with a B.S. in Finance & minor in Chemistry from Oregon State University.
6:30pm to 7:00pm Networking
7:00pm to 8:00pm Bitcoin Mining Presentation
8:00pm to 8:30pm ICOs & Cryptocurrency/Blockchain startups Demo Pitches/Networking
Launching an ICO or got a Blockchain startup? Book a demo table & get a video of your 3min pitch!
Want to pay with Cryptocurrency? Pay for Tickets Here