Mark Crager, Principal/Founder Next Stage Partners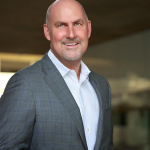 Next Stage Partners is a firm that partners with early-stage Fintech companies and Financial Institutions to develop strategy and implement new products and services in the payments space.  Prior to NSP, he held several executive positions at Visa Inc. resulting in the launch of multiple products and significant development of key industries.  He has a proven track record of moving products from concept to full commercialization in consumer and B2B environments. Prior to his career at Visa, Mark launched new divisions for Sony, J&J and Nestle.  Additionally, Mark maintains a Member Board Advisor position with StartX, the Stanford University incubator for fintech startups and other growth industries.
Pierre-R. Wolff VP Bus Dev Tierion
 Pierre Wolff is a 20+ year veteran of Silicon Valley as a business strategist, startup advisor/mentor, and people-connector in the tech industry. At Tierion, a company that has developed a "proof engine" leveraging a decentralized network of nodes for time-stamping and anchoring digital content on the Bitcoin Blockchain, Pierre runs business development after having been an advisor there for two years. Pierre is also a Managing Director at ExecConnect, a consultancy where he focuses on helping financial and technology companies better understand the blockchain and cryptocurrency related ecosystems. In addition to advising several startups, he is an advisor to Science Blockchain, a Santa Monica-based blockchain-focused incubator that raised a venture fund using a registered security token offering in November 2017. When not in his day job, Pierre is a regular participant at various blockchain and cryptocurrency events as a moderator or panelist, discussing regulatory, business model, and technology suitability issues.
Mason Borda, CEO/CoFounder Tokensoft
Mason is a cryptocurrency infrastructure veteran with experience scaling foundational technologies on Bitcoin and Ethereum. TokenSoft is a SaaS infrastructure and treasury management solution for token offerings. He was previously VP of Token Operations at doc.ai where he designed the Neuron Network, an ecosystem for decentralized, edge learning. As co-creator of Ether.li, he launched the world's first multi-signature web wallet for Ethereum, the first secure wallet offering of its kind.
Mark Albertson, Silicon Valley journalist
 Mark's stories have been regularly published for the San Francisco Examiner, Blasting News, and CBS-Bay Area. His coverage of the technology industry made him the Examiner's top-ranked tech reporter for 2016 in 244 markets across the United States. He is also an experienced video and TV producer, having created Tech Closeup, a n
ationally syndicated program on technology that aired on ABC, NBC, CBS and FOX affiliate stations over the course of four years.
Pauline Francis, Partner, B2B CFO®
Pauline is a results-oriented CFO & business advisor with 25 years' experience guiding privately held companies to greater profitability in diverse industries including manufacturing, technology, medical devices and service. As an entrepreneur at the age of 18, she oversaw all aspects of the business, including operations, tax compliance and workforce management. Having grown and successfully sold her own business, she understands what it takes to innovate, compete, manage and transition ownership. Her range of expertise includes working with start-ups, acquisitions and post-acquisition integration. Pauline serves on the Boards of the non-profit organization WHW and NAWBO (National Association of Women Business Owners). She earned her MBA and graduated with Honors from The Wharton School.